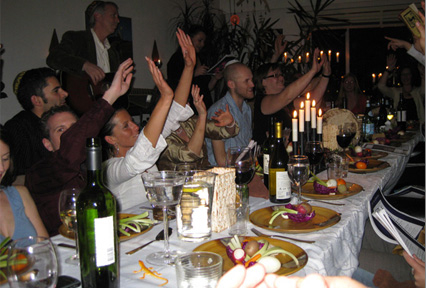 The Jewish people celebrate Passover as a commemoration of their liberation over 3,300 years ago by God from slavery in ancient Egypt that was ruled by the Pharaohs, and their freedom as a nation under the leadership of Moses. It commemorates the story of the Exodus as described in the Hebrew Bible especially in the Book of Exodus, in which the Israelites were freed from slavery in Egypt. This menu I put together was an attempt to observe and conform to the traditional Passover dinner meal .
Potato Latkes for Passover Recipe
By Barbara Rolek
This potato latke recipe is suitable for Passover because it is made with matzoh meal, not flour, and it comes together quickly because it's made in a food processor. Serve with applesauce and sour cream.
Prep Time: 20 minutes
Cook Time: 20 minutes
Total Time:
40 minutes
Yield:
4-6 servings Passover Latkes
Ingredients:
6 medium potatoes, peeled and cut into chunks
2 medium onions, peeled and quartered
2 tablespoons matzoh meal, or more as necessary
2 large eggs
Salt and pepper to taste
Applesauce
Sour cream
Preparation:
Using the grating disk of a food processor, shred the potatoes. Temporarily transfer grated potatoes to another bowl. Replace the grating disk with the metal blade and return the potatoes to the processor bowl along with onions, matzoh, eggs, and salt and pepper. Process until well combined. Add more matzoh meal, if mixture is too runny.

Heat about 1/4-inch oil in a large skillet until hot enough for a small drop of batter to sizzle when it touches the grease. Using a large spoon, mound equal portions of potato mixture in oil, flattening slightly. Shake pan to make sure pancakes aren't sticking. Fry over mediium heat 5 to 8 minutes per side. Drain on paper towels.

Serve hot with applesauce and sour cream.
http://easteuropeanfood.about.com/od/starches/r/passover-latkes.htm
Quinoa and Asparagus Salad with Mimosa Vinaigrette
by Melissa Roberts
Quinoa is native to the Andes, not the Middle East, so it was unknown to the Jews fleeing Egypt during biblical times. With the recent rise of quinoa's popularity in the United States, and the fact that it's not a true grain but rather the seed of a broadleaf plant, some circles of Judaism have approved of and welcomed it to the Passover table, while others have not. If you feel comfortable serving it this Passover, you will love how it absorbs the vinaigrette, bright with lemon and enriched with finely grated hard-boiled eggs, and how it forms a tender bed for the ribbons of scallion and raw asparagus.
Editor's Note:
This recipe is part of
Gourmet's
Modern Menu for Passover. Menu also includes
Wine-Braised Brisket with Tart Cherries
and
Amaretto Olive Oil Cake.
ingredients
2 large eggs
1 1/4 cups (8 ounces) quinoa
2 1/2 cups water
Kosher or fine salt
5 scallions, trimmed
1 pound asparagus, tough ends trimmed
4 tablespoons fresh lemon juice, or to taste
2 teaspoons mild honey
6 tablespoons extra-virgin olive oil
1 cup flat-leaf parsley leaves
1/2 cup fresh mint leaves
1/2 cup fresh cilantro leaves
Freshly ground black pepper
Special equipment:A sharp vegetable peeler
preparation
Put eggs in a small saucepan and cover with cold water. Bring to a boil, then cover pan, and remove from heat. Let eggs stand, covered, 15 minutes, then drain, and transfer to a bowl of ice water to cool completely. Remove shells and finely grate eggs with a Microplane or the fine holes of box grater into a small bowl. Set aside.
Rinse quinoa well in a large fine-mesh sieve under cold running water. Set sieve over a bowl and let quinoa drain well for at least 5 minutes. Bring 2 1/2 cups water to a boil with 1/2 teaspoon salt (kosher or fine) in a 3-quart saucepan. Add quinoa and simmer, covered, until water is absorbed and quinoa is tender, 16 to 20 minutes. Remove pan from heat and let quinoa stand, covered, 5 minutes. Spoon quinoa onto a large rimmed baking sheet, spreading it in a single layer, and let it cool to room temperature.
Cut scallions into 2-inch pieces. Halve each piece lengthwise, then slice lengthwise into thin strips (julienne). Transfer to a large bowl.
Using vegetable peeler, peel lengthwise strips from asparagus, beginning at bottom end, and add to scallion. Once you can't peel any more slices from a stalk, break off the thick end (reserving it for another use, such as soup) and add the remaining thin strip to bowl with scallions.
Whisk together lemon juice with honey and 3/4 teaspoon kosher (1/2 teaspoon fine) salt until smooth. Add oil in a steady stream, whisking until combined. Taste and adjust seasoning, if desired, then whisk in grated eggs.
Transfer quinoa to another large bowl and toss with herbs and 1/2 cup vinaigrette, or to taste. Toss asparagus with 3 tablespoons vinaigrette and salt and pepper to taste.
Spoon quinoa onto salad plates, and top with a tangle of asparagus and scallion. Serve remaining vinaigrette on the side, or save, chilled, for another salad.
cooks' notes:•Quinoa and eggs can be cooked up to 1 day ahead. Let cool as directed, then chill in separate containers.
•Herbs can be kept between slightly dampened towels in resealable plastic bags, 1 day ahead.
•Asparagus and scallion can be cut prepped and kept between slightly dampened towels in resealable plastic bags, 1 day ahead.
•Vinaigrette (without eggs) can be made up to 3 hours ahead. Stir in grated egg just before dressing salad.
http://www.epicurious.com/recipes/food/views/Quinoa-and-Asparagus-Salad-with-Mimosa-Vinaigrette-395372
Spring Chicken Soup with Matzoh Balls
by Melissa Roberts
The key to a delicious matzoh ball soup is in the broth: lots of vegetables and aromatics, including slices of ginger root for a bit of heat, make a perfect vehicle for these matzoh balls. Matzoh balls can be a very personal thing: some like them light and fluffy, while others fall into the "hard as golf balls" camp. Filled with lots of fresh parsley and dill, these dumplings fall somewhere in between: not feather light, not too hard, but with just enough bite and presence to stand up to its flavorful broth.
ingredients
Soup:
3 medium leeks (about 1 1/2 pounds), top 2 inches of dark green parts discarded, then halved lengthwise and cut crosswise into thirds
5 large carrots (about 1 pound), cut into thirds
2 celery ribs, cut into thirds
1 (4- to 4-1/2 pound) chicken (giblets and liver removed)
1 small head garlic, halved crosswise
1/3 cup sliced fresh ginger (unpeeled but skin scrubbed); from one 1/2-ounce piece
15 long fresh flat leaf parsley stems
15 long fresh dill stems
12 black peppercorns
1 tablespoon kosher salt
4 quarts cold water
Matzoh balls:
1 cup matzoh meal, plus 1 tablespoon
1/3 cup finely chopped flat leaf parsley
3 tablespoons finely chopped fresh dill
3 tablespoons rendered chicken fat
1/2 cup chicken broth (reserved from recipe below)
4 large eggs, separated
Dill sprigs for garnish
preparation
Cook broth:
Wash leeks in a bowl of cold water, agitating them to remove all sand and grit, then lift out and transfer to an 8-quart stockpot.
Add all remaining broth ingredients to pot and bring to a boil over medium heat.
Reduce heat and simmer, uncovered, skimming foam occasionally, 3 hours.
Make matzoh balls:
Stir together matzoh meal, parsley, dill, 1/2 teaspoon kosher salt, and 1/4 teaspoon black pepper in a bowl.
Work rendered chicken fat into mixture with your fingers until incorporated, then stir in 1/2 cup broth from chicken and yolks. Mixture will be stiff.
Beat egg whites with a pinch of salt in another bowl until they just form soft peaks.
Stir one-third of egg whites into matzoh mixture to lighten, and then fold in remaining whites gently but thoroughly. Chill, covered, 30 minutes. If after chilled, matzoh is still not firm, add 1 tablespoon additional matzoh meal.
Finish soup:
Transfer chicken from broth to a cutting board to cool. When cool enough to handle, tear chicken into shreds, discarding skin and bones.
Remove carrots from broth and once cool, cut into 1/2-inch pieces.
Line a large sieve with a double layer of dampened paper towels. Pour broth through sieve into a 5-to 6-quart pot, pressing hard on and discarding solids. Return broth to a simmer.
With dampened hands, gently form chilled matzoh mixture into roughly 1-inch balls, gently dropping them into simmering soup as formed (this should yield about 20 matzoh balls; moisten hands as necessary to prevent sticking).
Simmer matzoh balls, covered, until just cooked through, about 45 minutes (To test: Halve one matzoh ball. It should have a uniformly moist interior; if uncooked, it will be dry in the center).
Stir carrots and chicken into hot soup to warm through before serving.
Garnish with dill sprigs.
cooks' notes:•Soup (with matzoh balls) can be made 3 days ahead and chilled, uncovered, until completely cooled, then cover.
http://www.epicurious.com/recipes/food/views/Spring-Chicken-Soup-with-Matzoh-Balls-395009
Spaghetti Squash Baked Ziti
Written by chanie
This may come as a surprise to you, but Pesach doesn't have to be all about chicken and potatoes. Or meat and potatoes. Or steak and potatoes. If you try and think outside the Passover matza box, you'll find that there are lots of other healthy options available to cut through the 8 day food-fest. Spaghetti squash is a great example. You can use it in place of pasta in lots of different preparations. This dish would work wonderfully for Pesach
chol hamoed
dinner. Add in roasted veggies like zucchini, eggplant or mushrooms for added flavor and nutrients.
Spaghetti Squash Baked Ziti
1 spaghetti squash, roasted (see
how to prepare spaghetti squash
)
1/2-1 jar marinara sauce
1/2-1 12oz. container cottage cheese
1 8 oz. bag mozzerella cheese, divided
4 oz. cheddar cheese
Method:
Add spaghetti strands to a large bowl and mix in marinara sauce and cottage cheese. For a larger squash, use more sauce and cheese, and for a smaller squash use less. Mix in 1/2 bag of mozzarella cheese. Pour mixture into a greased 9×13 pan. Sprinkle remaining mozzarella and cheddar cheese over the top. Bake at 400 degrees until the cheese melts and begins to brown around the edges.
http://www.busyinbrooklyn.com/spaghetti-squash-baked-ziti/
Traditional Apple-Walnut Charoset
by Adeena Sussman
photo by Lara Ferroni
yield
Makes about 4 cups
This is a standard Ashkenazi (Eastern European) recipe, with a little brown sugar added for depth.
ingredients
3 medium Gala or Fuji apples, peeled, cored, and finely diced
1 1/2 cups walnut halves, lightly toasted, cooled, and coarsely chopped
1/2 cup sweet red wine such as Manischewitz Extra Heavy Malaga
1 1/2 teaspoons ground cinnamon
1 tablespoon packed brown sugar
preparation
In large bowl, stir together all ingredients. Store, covered, at room temperature until ready to serve.
notes:·l;For the most even texture, we recommend dicing the apples by hand. However, to save time, they can be chopped in the food processor — just be careful not to overprocess.
·Sweet kosher wine is available at www.queenannewine.com.
http://www.epicurious.com/recipes/food/views/Traditional-Apple-Walnut-Charoset-234298
Yarden Mount Hermon kosher wine was produced from Cabernet Sauvignon and Merlot with a small amount of Cabernet Franc, all grown in the Golan Heights. The cool climate, rocky volcanic soil, and high altitude are ideal conditions for growing classic wine grape varieties. Moderately early pressing yields a wine with good color and ample fruit that can be enjoyed without extensive aging. To preserve the quality of the wine, this bottle should be stored on its side in a cool, dark place. Best served at 55-60 degrees F.
http://jwines.com/yarden-mount-hermon-red-2.html
Recipe: Potato and Leek Galette
from The Kitchn
The recipe is inspired by a classic French potato galette or pommes Anna, but instead of layering the thinly sliced spuds with copious amounts of butter, I use a buttery olive oil. I also incorporate a single leek, which may not seem like much but it's just enough to lend a silky texture and sweet, mildly onion-y flavor. After baking in the oven, the potato "cake" is delightfully crisp on the outside and soft and creamy in the middle. It makes a lovely side dish for any meal — with eggs for brunch, with a salad for lunch, or as an accompaniment to dinner.
Potato and Leek Galette
Serves 6
1/4 cup olive oil, divided
1 large leek, white and light green parts only,
cut into 1/4-inch-thick rounds
1 garlic clove, minced
Kosher salt
Juice of 1/4 lemon
Freshly ground black pepper
Freshly ground nutmeg
1 1/2 pounds russet potatoes or other all-purpose potatoes, scrubbed
Preheat oven to 400°F.
Heat 1 tablespoon of olive oil in a saucepan over moderate heat. Add the leeks, garlic, and a pinch of salt and turn the heat to low. Cook, stirring frequently, for about 10 minutes until the leeks are soft but not too browned. Stir in lemon juice, a crack of pepper, and a grate of nutmeg. Set aside.
Use a mandoline or chef's knife to cut the potatoes into 1/8-inch-thick slices. Keep the potato slices stacked together to help prevent discoloration. (Do not rinse or soak the slices, as the natural potato starch helps hold the dish together.)
Grease the bottom and sides of a 10-inch ovenproof skillet with 1 tablespoon of olive oil and lightly sprinkle with pepper and nutmeg. Working from the outside-in, use a third of the potato slices to cover the bottom of the skillet with a layer of slightly overlapping, concentric rings.
Brush or rub a third of the remaining olive oil over the potato slices, season with salt, pepper, and nutmeg, and spread half of the leeks on top, leaving a 1/2-inch border along the edges. Top with a third of the potato slices. Continue building the galette in layers; when finished, you should have three layers of potatoes and two layers of leeks.
Bake in the oven until golden and tender when pierced with a knife, about 45 minutes. If the potatoes start to burn before they are cooked all the way through, cover with aluminum foil and remove for a few minutes at the end of baking.
Let cool for 5-10 minutes. Run a spatula or knife along the edges to loosen the galette and invert it onto a dish. Serve warm, cut into wedges.
http://www.thekitchn.com/recipe-potato-and-leek-galette-recipes-from-the-kitchn-184420
Lemon Mint Braised Artichokes
by Melissa Roberts
photo by Jonny Valiant
yield
Makes 8 (first course) servings
active time
1 hr
total time
2 hr
As a harbinger of spring, artichokes have a special place on the Passover table and in our hearts. One of Roberts's favorite ways to enjoy them is this elegant Roman preparation. (Rome is home to the oldest Jewish community in the Western world—the first Jews arrived in 161 b.c.e. as ambassadors from Judah Maccabee in Jerusalem.) The trimmed artichokes are braised in a lemony broth zinging with garlic and mint, which is later reduced to a satiny sauce.
ingredients
2 lemons, halved
8 large artichokes with long stems
1/4 cup fresh lemon juice
3 cups water
1/3 cup extra-virgin olive oil
5 tablespoons chopped mint, divided
3 garlic cloves, minced
preparation
Squeeze 2 lemon halves into a large bowl of cold water.
Cut off top inch of 1 artichoke and bend back outer leaves until they snap off close to base (keep stem attached). Discard several more layers of leaves in same manner until you reach pale yellow leaves.
Cut off remaining leaves 1/2 inch above top of artichoke base using a sharp knife, then pull out purple leaves and scoop out fuzzy choke with a melon-ball cutter. Trim dark green fibrous parts from base and side of artichoke.
Trim a thin slice from stem end, then trim side of stem down to pale green inner core. Rub cut surfaces with lemon halves, then put artichokes in lemon water.
Trim remaining artichokes in same manner.
Combine lemon juice, water (3 cups), oil, 3 tablespoons mint, garlic, and 1 teaspoon salt in a 4-to 5-quarts heavy pot (wide enough to hold artichokes in 1 layer with stems pointing upward) and bring to a simmer.
Stand artichokes, stem ends up, in liquid and cover with a round of parchment paper. Simmer, covered with parchment and lid, until just tender when artichoke bottom is pierced with a knife, 25 to 30 minutes.
Transfer artichokes with a slotted spoon to a shallow serving dish. Boil cooking liquid until reduced to about 1/2 cup, about 20 minutes. During last 2 minutes of boiling, whisk liquid until it emulsifies. Pour over artichokes and sprinkle with remaining 2 tablespoons mint.
What to drink:
Yarden Galilee
Cabernet Sauvignon '05
cooks' note:Artichokes can be braised 1 day ahead and chilled in reduced cooking liquid. Serve at room temperature or reheat over low heat until warm.
http://www.epicurious.com/recipes/food/views/Lemon-Mint-Braised-Artichokes-352323
Recipe: Turkey in a bag with Molly's Passover vegetable stuffing
Active work time: 15 minutes
Total preparation time: 4 hours
1 (15-to 20-pound) turkey
Molly's Passover vegetable stuffing, cooled
1/4 cup oil
1 cup apricot preserves
Salt
Freshly ground black pepper
Heat the oven to 325 degrees. Clean the turkey and pat it dry with paper towels. Spoon the cooled stuffing into the cavity and close with a needle and thread or skewers. Rub the outside of the turkey with the oil and preserves and sprinkle with salt and pepper.
Grease the inside (seamless unprinted side) of a large brown paper bag, or use a large plastic baking bag. Grease the paper bag very carefully; if any part is not greased, it might catch fire. Place the turkey inside the bag, neck first and breast down. If you're using a paper bag, fold the open ends and seal it with paper clips or staples; if using a plastic baking bag, tie it with the plasticties supplied. Place the turkey on a large rack over a roasting pan lined with heavy foil. Bake for 3 hours or more, depending on the size of the turkey (15 minutes to the pound is a perfect guide).
About 30 minutes before the turkey is done, slit the bag under the bird and let the liquid drain into a saucepan. When all the juices are poured off, use a scissors to cut the bag open and remove the turkey. Turn it so the breast is on top. Return the turkey to the oven to brown for the remaining cooking time, or until a meat thermometer inserted in the thigh reaches 165 degrees. Skim the fat from the juices, discard it and heat the juices. Remove the stuffing and transfer to a heated bowl.
Carve the turkey and arrange the slices, legs, and wings on a large platter. Serve the juices in a gravy boat.
16 servings. Each serving: 533 calories; 215 mg sodium; 163 mg cholesterol; 24 grams fat; 6 grams saturated fat; 20 grams carbohydrates; 57 grams protein; 1.65 grams fiber.
Molly's Passover vegetable stuffing
Active work time: 20 minutes
Total preparation time: 35 minutes
Note from the author: I adapted my mother's vegetable stuffing for Passover by substituting matzo meal, cake meal and Passover cereal. It has become a family heirloom that is treasured for its delicious self, besides the happy memories it evokes of family celebrations. While my mother's recipe dates back to a time before food processors, I chop the onions, garlic and celery in the food processor fitted with the knife blade. Then I change to the grater blade and grate the carrots, parsnip and zucchini, and what took her hours to make takes me about 10 minutes.
1/4 cup extra-virgin olive oil
http://www.latimes.com/food/la-fo-turkey-s,0,3900780.story#ixzz2yhl0nzzd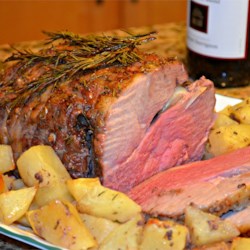 Easy Leg of Lamb
Ingredients
makes 8 servings
1 (5 1/2 pound) boneless leg of lamb, tied in netting
20 cloves garlic, or more to taste
garlic powder, or to taste
10 fresh rosemary sprigs
Preheat oven to 325 degrees F (165 degrees C).
Cut 20 deep slits evenly spaced around the leg of lamb without cutting the netting. Stuff a garlic clove into each slit. Rub garlic powder over the lamb. Slice rosemary sprigs under netting evenly around the lamb. Place lamb into a roasting pan.
Roast in preheated oven until reddish-pink and juicy in the center for medium-rare, about 2-2 1/2 hours. An instant-read thermometer inserted into the center should read 130 degrees F (54 degrees C). Cover in aluminum foil; rest meat until thermometer reads 135 degrees F (57 degrees C) before carving.
http://allrecipes.com/Recipe/Easy-Leg-of-Lamb/detail.aspx
Beef Brisket with Merlot and Prunes
by Diane Rossen Worthington
photo by Marcus Nilsson
yield
Makes 8 servings
Wine and dried fruit bring a sweet richness to this humble cut of meat.
ingredients
1 4-to 4 1/2-pound flat-cut (also called first-cut) beef brisket, trimmed of most fat
2 tablespoons olive oil
1 14 1/2-ounce can diced tomatoes in juice (preferably fire-roasted)
1 cup Merlot or other dry red wine
2 pounds onions, sliced
4 medium carrots, peeled, thinly sliced
16 garlic cloves, peeled
1 1/2 cups pitted large prunes (about 8 ounces)
1 tablespoon finely chopped fresh thyme
1/2 cup plus 1 tablespoon prune juice
3 tablespoons plus 1 teaspoon balsamic vinegar
2 tablespoons chopped fresh Italian parsley
preparation
Position rack in bottom third of oven and preheat to 325°F. Pat brisket dry; sprinkle all over with salt and pepper. Heat oil in heavy extra-large skillet over high heat. Add brisket and cook until deep brown, about 7 minutes per side. Transfer brisket, fat side up, to large roasting pan. Add tomatoes with juice and wine to skillet. Remove from heat, scrape up any browned bits, and pour mixture over brisket. Distribute onions, carrots, and garlic around brisket. Add prunes and thyme; drizzle with 1/2 cup prune juice and 3 tablespoons vinegar. Sprinkle lightly with salt and pepper. Place pan over 2 burners and bring to boil. Cover pan with heavy-duty foil; place in oven.
Braise brisket until tender, about 3 hours 15 minutes. Uncover and cool 1 hour at room temperature. DO AHEAD: Can be made 2 days ahead. Cover with foil and chill. Bring just to simmer over 2 burners before continuing.
Remove brisket from roasting pan, scraping off juices. Place on work surface;cut across grain into 1/4-inch-thick slices.Spoon off fat from top of pan juices. Place 1 cup vegetables (no prunes) and 1 cup braising liquid from pan into processor and puree. Return puree to pan. Add remaining 1 tablespoon prune juice and 1 teaspoon vinegar to pan. Heat sauce; season with salt and pepper.
Overlap brisket slices in 13x9x2- inch glass baking dish. Pour sauce over brisket, separating slices to allow some sauce to flow between. DO AHEAD:Can be made 1 day ahead. Cover; chill.
Rewarm brisket, covered, in 350°F oven for 30 minutes. Sprinkle brisket with parsley; serve.
More info:
Use a slender metal pin, like a turkey lacer, to check whether the brisket is tender. Insert the pin into the thickest part; if it meets no resistance, the brisket is done.
What to drink:
You used Merlot to cook the brisket, so why not pour a Merlot as well? Try the Yarden 2002 Merlot ($22), produced at a winery in Israel's Golan Heights. The kosher wine has ripe plum flavors and a spicy finish.
http://www.epicurious.com/articlesguides/holidays/passover/brisket/recipes/food/views/Beef-Brisket-with-Merlot-and-Prunes-241853
Coconut Macaroons
ingredients
Butter and flour for preparing baking sheet and foil
1 large egg white
1 tablespoon sugar
1/4 teaspoon vanilla
1/8 teaspoon almond extract
3/4 cup sweetened flaked coconut
preparation
Put oven rack in middle position and preheat oven to 300°F. Butter a baking sheet, then line with foil and lightly butter and flour foil, knocking off excess flour.
Stir together egg white, sugar, vanilla, almond extract, and a pinch of salt until combined, then stir in coconut. Divide coconut mixture into fourths, then drop in 4 mounds (about 2 inches apart) onto baking sheet.
Bake until tops are pale golden in spots, 15 to 20 minutes, then carefully lift foil with cookies from baking sheet and transfer to a rack to cool completely, about 15 minutes. Peel macaroons from foil.
http://www.epicurious.com/articlesguides/holidays/passover/kosherpassoverdessertrecipes/recipes/food/views/Coconut-Macaroons-232018
Citrus Sponge Cake with Strawberries
by Abigail Kirsch
ingredients
For cake:
Potato starch (for dusting cake pan)
2 teaspoons vegetable oil
1/2 cup matzoh cake meal
3/4 cup potato starch
8 extra-large eggs, separated, at room temperature
1 cup sugar
1/4 cup orange juice
Juice of 1 large lemon
1 teaspoon freshly grated orange zest
1 teaspoon freshly grated lemon zest
1 1/2 teaspoons pure vanilla extract
1/2 teaspoon almond extract
1/4 teaspoon salt
For strawberries:
3 pints strawberries, stemmed, washed, and thinly sliced
1/2 cup orange juice
1 tablespoon sugar
preparation
1. Preheat the oven to 350°F. Lightly grease a 9-inch springform pan with the oil and dust with potato starch.
2. Sift the cake meal and potato starch together over a piece of foil and set aside.
3. In the bowl of an electric mixer, beat the egg yolks on medium speed for 3 minutes, until golden yellow and thick. Add the sugar slowly. Continue to beat 3 minutes more.
4. With the mixer on low, gradually add the orange juice, lemon juice, orange zest, and lemon zest. Add the vanilla and almond extract. Gradually add the matzo meal mixture to the batter. Mix gently until well blended.
5. In a clean bowl, beat the egg whites with the whisk attachment of the electric mixer until foamy. Add the salt and beat until the whites hold glossy peaks. Gently fold the egg whites into cake batter with a spatula. Pour the batter into the springform pan and bake for about 50 minutes, or until a cake tester comes out clean. Cool the cake in the pan, then loosen the sides. Cool completely.
6. Cut the cake into 12 wedges, or carefully slice the cake in half horizontally with a serrated knife and cut into 6 wedges to make 12 total wedges.
7. Toss the strawberries with the orange juice and sugar 30 minutes before serving the cake. Spoon the strawberries over each cake wedge and serve.
cook's tip:Gild the lily by serving the cake with whipped cream or ice cream.
http://www.epicurious.com/articlesguides/holidays/passover/sederdinner/recipes/food/views/Citrus-Sponge-Cake-with-Strawberries-104864