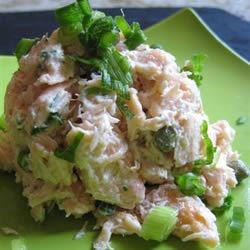 This is my original recipe for salmon salad and yes,I am Auntie Weezie. Enjoy!!!
1 cup mayonnaise (at least)
1 tablespoon dijon mustard
1 tablespoon Old Bay seasoning
2 (14 3/4) can pink salmon, drained, bones and skin removed
2 stalks chopped celery, chopped finely
6 hard boiled eggs, chopped
1 small onion, chopped finely
1 green bell pepper, chopped finely
1 tablespoon garlic powder
4 ounces dill relish, strained
In a large bowl, put the salmon,celery,eggs,onion,green pepper and relish together. In a smaller bowl,blend the mayonnaise,mustard,dill weed,old Bay,pepper,and garlic powder into a smooth sauce. Finally add the sauce to the large bowl,mix,chill and serve with saltine crackers.
https://docs.google.com/document/d/1MnXxuo9jMEsmuC6AuuF1QZclIULa8v_WuoDvFxnfGNM/edit?usp=sharing